X
Hiya! Would you like a Ludometrics logo?
Download it from below, or grab the full media kit.
Ludometrics Media Kit (Coming Soon!)
This space intentionally left blank.
Bips! The Two Week Update
It's been a couple of weeks since we announced Bips! had gone into open beta, so we thought we'd do a quick round up of what's happening.
The most noticable change in the last couple of weeks is the addition of achievements to the game, to help provide an extra layer of challenge for players.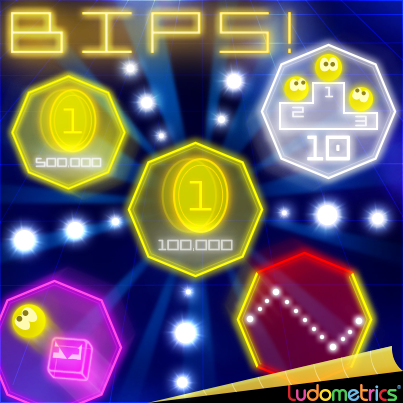 Aside from that, we've been fixing a variety of bugs (thanks to all who have reported them), and generally tidied up the game a little bit based on feedback.
We've also had some very nice coverage of the game from ScottishGames.net, Forbes, and Inside Social Games. Here are some of our favourite quotes:
Bips! is one of the simplest, slickest and most compelling games of recent years.
Even in beta Bips has a lot of depth (and addictiveness) but there's more to come.
Bips is an excellent game that is simple to understand, enormously addictive and a lot of fun.
We're glad so many are enjoying Bips!; we're continually working on the game and we'll be back with another update very soon!