X
Hiya! Would you like a Ludometrics logo?
Download it from below, or grab the full media kit.
Ludometrics Media Kit (Coming Soon!)
This space intentionally left blank.
What We Learned at Dare ProtoPlay
Last Thursday & Friday, we took Bodycheck on a roadtrip to Dundee and its awesome Dare ProtoPlay event (you can see our stand below). I lost track of how many people actually played the game, but it was definitely more than six. Thanks to you all who did play, and were so enthusiastic about it. After being so close to the game for so long, it's good for the soul to see so many people punching the air when they score their first goal.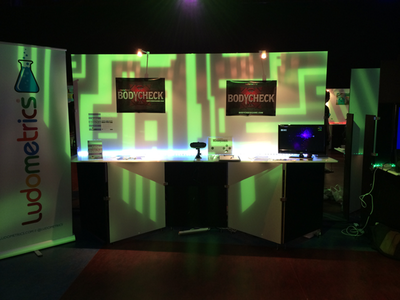 That's some video of Gridlock you can see running on the monitor. The monitor would also show some four-team insanity action from Bodycheck - many people seem excited at this prospect.
So here's a short list of what we learned from the two days:
Simplifying the game was definitely the right thing to do.
Checklists are awesome - this is the third show we've taken the game to, but the first time I didn't have to run to the shop to buy emergency supplies.
People were very polite, always asking before they played the game or took a badge and postcard.
However, if the game had a big screen and an Xbox 360 controller sitting free, people just jumped on. That worked well for our neighbours at Hidden Armada!
Badges are super popular. Sorry we ran out :(
People like it when they can immediately buy the game they're playing. Noted for future reference.
We now have a list of things we need to do to get to a feature complete version of the game, which will then let us get on and start making it look as awesome as we can. More soon.